How d'Agen Prunes are Taking Back their Geriatric Image
Did your grandparents ever force you to drink a glass of their prune juice?  Mine did.  And I'll never forget the singularly awful combination of flavors that came with washing down a peanut butter and jelly sandwich with… prune juice.  The prunes many of us grew up on, were visceral enough to keep the ubiquitous purple cardboard box from making its way into our adult grocery carts.  But recently, I've undergone somewhat of a prune conversion.  It began with our succulent French d'Agen prunes, and was perpetuated when we found our fabulously aromatic D'Agen Plum Seed Oil.
The most famous prune in the world, the pruneau d'Agen, has been a celebrated product of southwest France since at least the 1500s and the Ente plums have been officially protected since 2002 by the European Union.  Agen is a commune in Aquitaine of south-western France.  It lies on the river Garonne 84miles southeast of Bordeaux and is the birthplace of the prune d'Agen.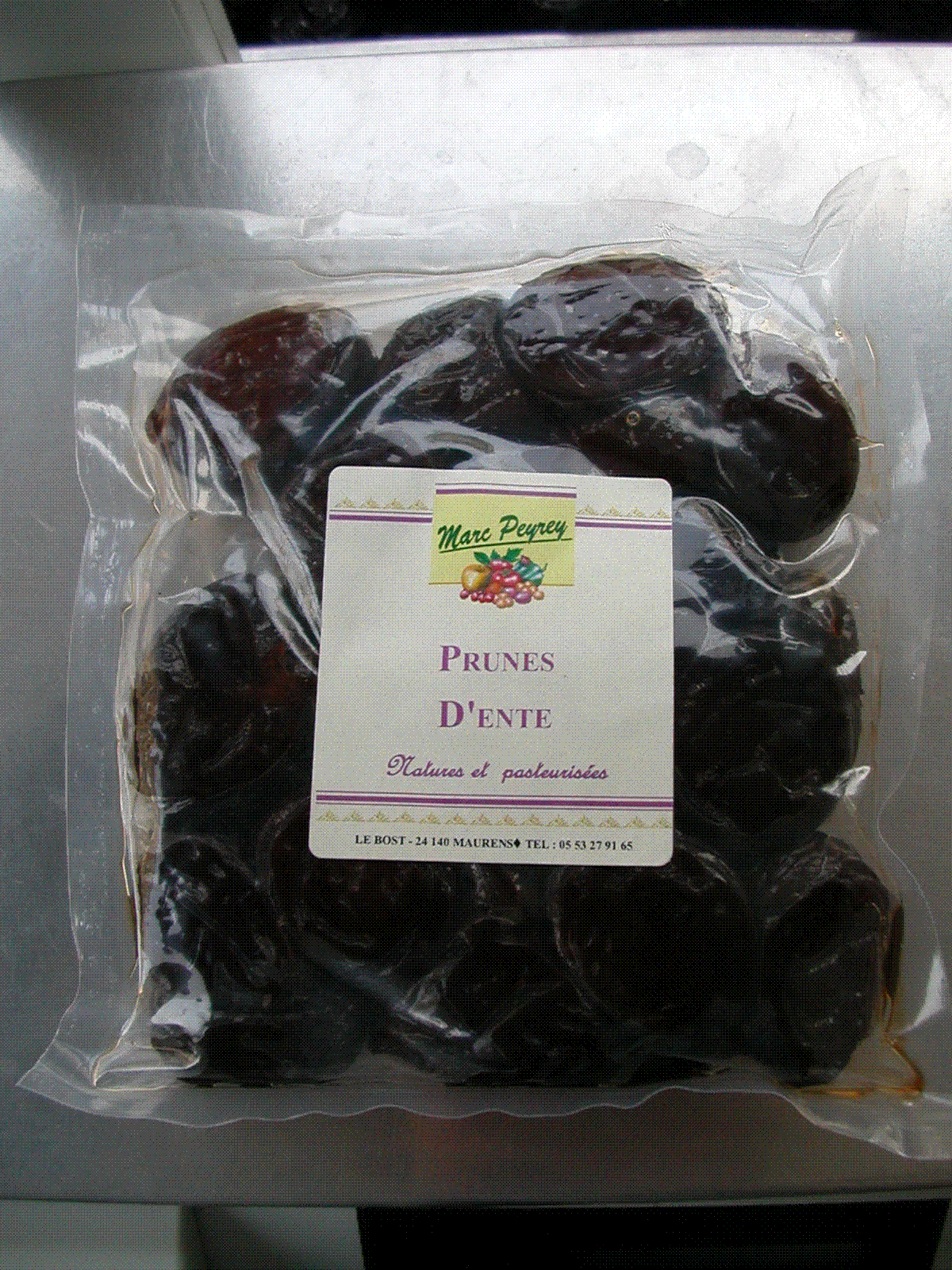 We get our Pruneau d'Agen from Marc Peyrey, whose small orchard focuses on growing heirloom fruit varietals of the Agen region.  To preserve the moisture and flavors of the prune d'ente, Marc dries the prunes in a special drying oven of his own invention, and partially rehydrates them in their own juice before sealing them in vacuum packs.  His prunes are delicious in savory applications (Duck! Foie gras! Cheese Plates!), as well as in sweeter ones: delicately spiced cakes, ice cream, clafouti.  But here at Great Ciao, we enjoy eating them simply straight out of the bag.
Recently we began sourcing another exceptional prune product – plum seed oil.  Until recently plum seed oil has been relatively unheard of in the states, but its popularity is gaining momentum, particularly with pastry chefs.  Plum seed oil, is the oil made by pressing the pit of the d'Agen plum.  The flavor and aroma are very similar to that of a bitter almond – the almond traditionally used in almond extracts, marzipan and oils.  After trying plum seed oils from several producers, we fell in love with the one from Perles de Gascogne.  Their orchard grows 20,000 prune d'ente and hazelnut trees, and is located 60km from the town of Agen.  Before the oil can be extracted from the fatty kernel, the tough pit has to be cracked, making for a time consuming and labor intensive product.  As with all great oils, their plum seed oil meets the EU's Extra Virgin standards by being cold pressed, collected on the first pressing, and having an acidity bellow .05%.
The oil is fragrant enough to use in recipes that call for almond extract.  If you are using plum seed oil as a dressing, you might consider tempering it with a more neutral oil.  It would make an excellent dressing for a summer fruit salad, equally sublime drizzled on grilled peaches, or used in any number of cakes and pastries.
Here is a recipe that makes use of both the prunes, and their oil – Enjoy!
Far Breton with Prunes d'Agen and Plum Seed Oil
Adapted from Baking From My Home to Yours, by Dorie Greenspan
3 large eggs
2 cups milk
1/2 cup sugar
1/4 teaspoon pure vanilla extract
1/4 teaspoon salt
1 tablespoon virgin plum seed oil
4 tablespoons unsalted butter, melted and cooled, plus more for pan
3/4 cups all-purpose flour
1 cup pitted pruneaux d'Agen (soaked overnight in Armagnac)
Confectioners' sugar, for dusting
In a blender, combine the milk, eggs, sugar, plum seed oil, butter, vanilla, and salt and blend for 1 minute. Add the flour and pulse until just incorporated, scraping down the sides of the blender jar. Chill in the jar for at least three hours and up to one day.
Position rack in the center of oven and preheat to 375 degrees. Butter an 8-inch round cake pan. Line bottom of the pan with parchment or waxed paper, butter the paper then dust the pan with flour, tapping out excess.
Blend the batter again until smooth, about 5 seconds. Pour into the prepared cake pan. Drop the prunes evenly into batter. Place cake pan on a baking sheet and bake for 50 to 60 minutes, until sides are browned and puffy and knife inserted into center comes out clean.
Cool cake completely on a cooling rack. Loosen cake from the pan by running a knife around the sides. Carefully invert pan onto a piece of wax or parchment paper, remove the pan and peel off parchment round. Place serving plate over cake and invert again. Dust cake with powdered sugar and serve.  (This recipe would be especially delicious with Armagnac scented whipped cream, or crème anglais)